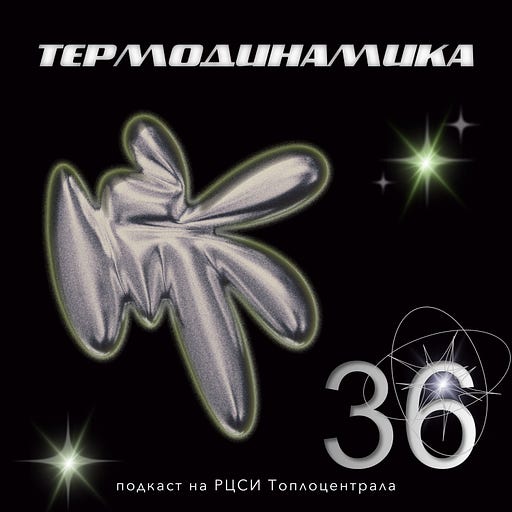 Jun 15 • 18M
ep. 36 THE SPEECH w/ NOA ZUK 📢
🤍 Термодинамика е подкаст проследяващ събитията на Регионалния център за съвременни изкуства Топлоцентрала. Сближете се със съвременната сцена на българско и чуждестранно изкуство. Не забравяйте, че вие като публика сте важна част от развитието на културата. Абонирайте се и бъдете информирани!
📢 "...a sensual, undeniable groove that has become her trademark... " — Ran Brown, Haaretz, November 2021
🗯 The urge to create something for yourself! Noa Zuk is an undeniably powerful and dedicated contemporary artist. Her work is something that's hard to put into words. THE SPEECH is a gift from herself to herself. An imaginary world where her truth flows in her movements. She sings with her body.
🧶 The project is developed during a hard period of time for the dancer. She wanted to let go of all fear and give life to ideas she had for 25 years. In this episode, she explains the simplicity of contemporary dancing and as well describes her struggles in physical research. 👣 THE SPEECH is a piece that urges to create space for the audience to feel and create on her own, to think and express... not only to observe. 👀
🔻"I' am giving a speech to myself, and I am not responsible for other people's feelings; I can just create this space where they are free to be present. " 🔻
29 of June / BIG HALL TOPLOCENTRALA
⚡️ Not only is she coming to perform her work, but dancers can sign up for her workshop Gaga and Repertory, where they can experience GAGA. ⚡️ What is GAGA, you may ask?
🟡 Ohad Naharin has developed Gaga, 🟡 an innovative and constantly evolving movement language that is available to both dancers and non-dancers. Gaga originated from Naharin's need to communicate with his dancers and his curiosity about the ongoing research of movement. Gaga has revolutionized Batsheva's training, enriched dancers' interpretation of Naharin's repertory, and emerged as a growing force in the larger field of movement practices worldwide. During his tenure as artistic director of Batsheva Dance Company, Ohad Naharin channeled his lifelong curiosity about moving into a concerted, dynamic research that took form as Gaga.
⬇️  SIGN UP FOR THE WORKSHOP HERE ⬇️ 
https://toplocentrala.bg/education/gaga-and-repertory-workshop
🧩 Follow Noa Zuk and her work on Instagram:
https://www.instagram.com/zuknoa/
🫶 Subscribe to the podcast and follow TOPLOCENTRALA on Facebook & Instagram. 🫶